BUDAPEST NIGHTLIFE EVENTS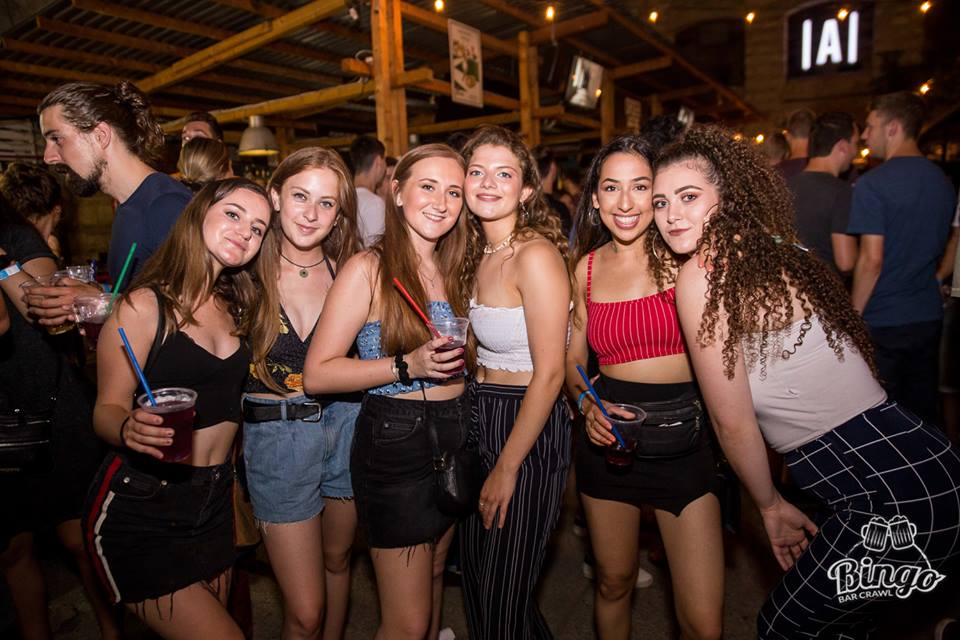 We have teamed up to offer you the best experience of Budapest nightlife!
Our guides will show you the best bars in the heart of Budapest and offer you exclusive drink deals. Prepare to meet great people and enjoy great drinks!
On Pub Crawl, we show you the most fun pubs in Budapest. You get a drink at each pub and after about an hour we move on to the next one. A guaranteed fun nightly party with their large group ready to party with you all night!
Whether you're traveling alone or with a group of friends, joining the pub crawl is one of the best ways to meet new people. Most travelers come somewhere and immediately come to visit the place. In one fun evening you get to know the city, find the most fun places to go and meet lots of people.
Experience the Fun in Bingo Bar Crawl!
It's not just a pub crawl…
it's a party game, where friends
and memories are made.
Come and play!
How it works
Everyone gets a Bingo Card at the beginning of the night as well as a Game Card with 75 challenges ranging from the very easy to the almost-insane. Your Bingo Card will contain 25 random numbers in a square grid, each one relating to one of the challenges in your Game Card.
Complete a line of 5 challenges, either in a vertical, horizontal or diagonal line, and you get a point. You can then trade in your points for shots, T-shirts and souvenirs. Every Bingo Card is different, so there is no knowing which challenges you will get! Some are harder than others, but none are impossible
What can I win?
You can trade in the tokens you get after every line of 5 challenges you complete and get the following prizes:
1 token: Bottle opener OR lighter
2 tokens: Beer coozie
3 tokens: Drawstring backpack
4 tokens: T-shirt
The first person to finish all 25 challenges will receive a FREE ticket to the next Budapest Boat Party (or any other event organised by PartyBookers Budapest)!
Stay safe
Although we're always down for a good time, we want to make sure that you're safe! Here are a few tips to help you stay out of trouble…
1) Drink responsibly and know your limits! 2) The crawl ends as soon as we enter the club – make sure you know where you are staying and how to get home. 3) Only ever take taxis that have a company logo on the car door, and make sure the meter is running. 4) Do NOT buy anything off a guy in the street. 5) Try to keep the noise down while walking between bars. We want to respect the locals living in the neighborhood. 6) Most importantly: if you need help at any point during the crawl, don't hesitate to ask our staff.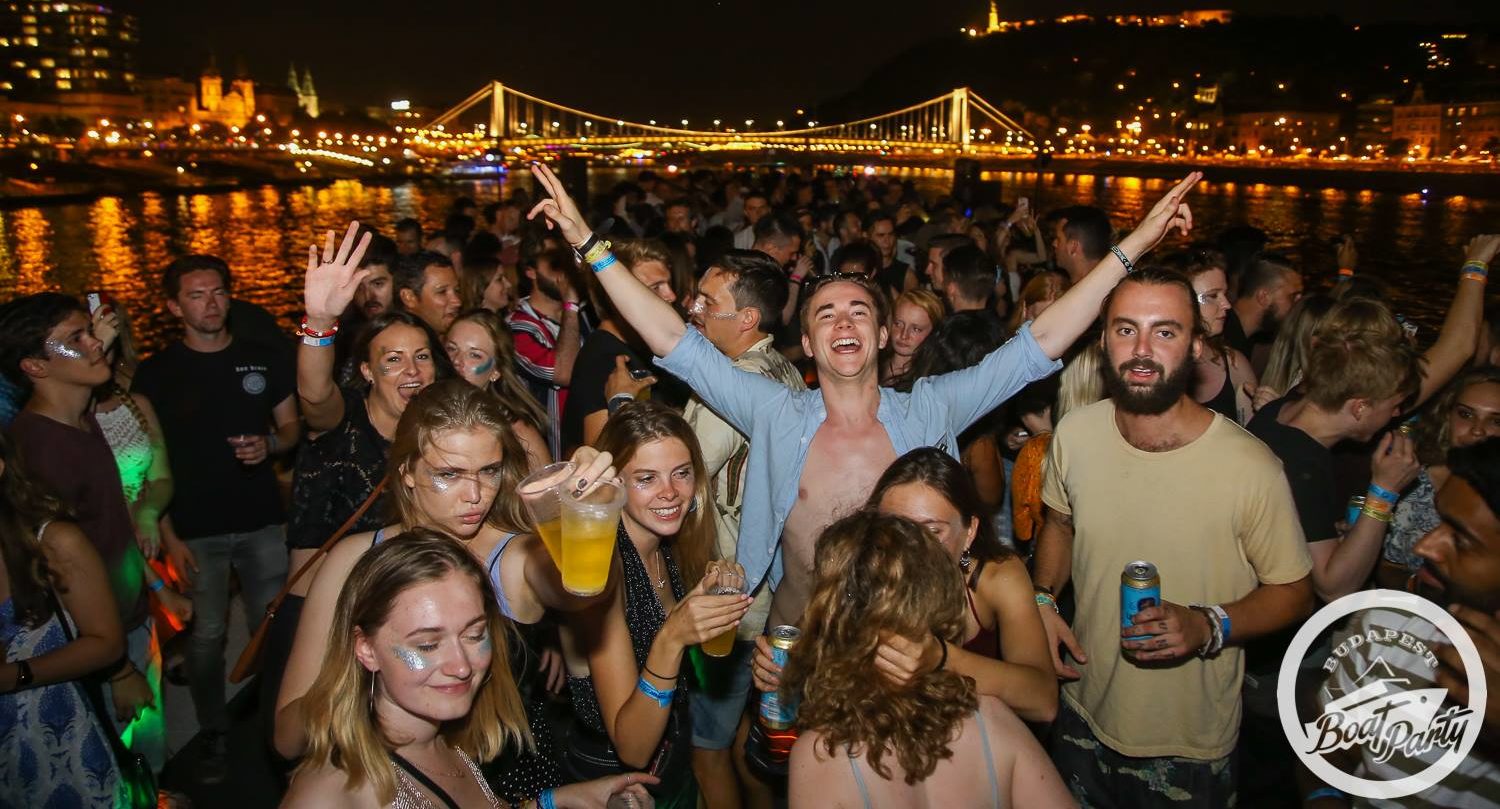 Experience the ORIGINAL and OFFICIAL Budapest Boat Party
ORIGINAL and OFFICIAL Budapest Boat Party
Where sightseeing meets party culture! We have been running the biggest weekly booze cruises in Europe since 2011, and we never get bored of it. We do it for the love of beauty, for the love of the city, and for the love of a damn awesome party. Join our international party crew for an unforgettable evening cruising along the most beautiful riverfront in Europe. Let's get ship-faced!
The name says it all! We are the only company organising weekly boat party cruises in Budapest that guarantees a large party crowd every week, with over 40,000 happy guests attending our events every year.
There are indoor and outdoor areas available, so regardless of weather conditions our boat parties make for an awesome addition to your Budapest nightlife experience. Imagine cruising along Budapest's world-famous Danube river front, seeing the magnificent Parliament lit up in all its glory, while drinking and dancing on an open deck with 400 other party faces enjoying some of Budapest's best local DJ talents. This is a party unlike any other! In addition to our weekly booze cruises, we also sell tickets to special thematic boat parties throughout the year, such as daytime techno parties, sunset cruises, New Years Eve boat parties, Halloween specials and multiple-destination booze cruises for tourists.
Pub crawls are organized by the hostels. So you don't have to worry about where to go. You can simply ask reception what time you will be picked up for your night and someone will come and get you! Sometimes the pub also creeps into the hostel bar or club start. Balmers hostel in Interlaken for example has a whole club under the hostel!
Going out in cities you've never been to before can be expensive. You end up in the tourist clubs where they charge you a ridiculous amount of money for entry and drinks. If you come pub hopping you just pay a fee and get some free drinks, entry and a tour included. Any more reasons not to go?!
Drinking games and going out is part of the travel experience. During pub crawls we often organize drinking games, or if you come up with some brilliant ideas you can take the lead and share your best games with the group. Have you thought of a drinking game yet?
Don't Miss the FUN!
Contact us for your bookings!